Mentoring / Life Coaching training
19-21 June 2017
Do you want to...
sharpen your mentoring skills?
empower your personnel?
retain staff?
build bridges between parts of your organisation?
support a competency or skills development program?
optimize the development of talent in your organisation?
If you do not believe in...
quick fixes
cheap, feel good answers
unrealistic motivational pep talks
Then this workshop is for you!
Cost: R3800.00
Venue: Pretoria
Date: 19-21 June 2017
Kliek HIER om in te skryf
Enquiries: info@bronzebaobab.com
Included in the Life Coach/Mentor training:
Personal StrengthsFinder analysis
Personal coaching session based on your StrengthsFinder outcomes
Talent report
Workbook and personal journal
Bestuur van Konflik werkswinkel
26 AUGUSTUS 2017
Doen navrae by info@bronzebaobab.com wanneer die volgende werkswinkel plaasvind
Werkswinkel inhoud:
Hoekom konflikhanteringsmodelle nie werk nie
Konflik en die bedrading van jou brein
Die waarde van konflik in 'n sisteem
Hoe jy konflik tot jou voordeel bestuur
Wanneer om uit 'n konflikbelaaide sisteem te klim
Hoe jy jouself kan beskerm
'n Werkswinkel in Pretroia vir almal wat van tyd tot tyd konflik in 'n sisteem moet bestuur - personeelbestuurders, onderwysers, ouers, voorsitters, predikante, sakevroue en -manne, bevelvoerders, prokureurs, mediators.
Datum: 26 Augustus 2017
Tyd: 09:00 - 14:00
Koste: R480.00
Navrae: Stuur jou navrae na info@bronzebaobab.com
Induksie fasiliteerder opleiding
Wanneer daar 'n nuwe persoon deel van 'n sisteem word, verander die dinamika van die hele sisteem. Ons lei fasiliteerders op om spanne/ sisteme/ gemeentes te begelei on die nuwelinge vinnig by die sisteem te laat inpas. Die voordeel van die program is dat dit nie net gebruik kan word vir die inskakeling van nuwe direkteure/dominees/hoofde nie, maar ook baie sinvol gebruik kan word waar daar verhoudingsbreuke in sisteme en tussen kollegas ontstaan het.
Die opleiding vind 13 en 14 Maart 2017 by die NG Kerk Kameeldrif in Pretoria plaas. Dit kos R2600.00 per persoon wat kursusmateriaal en persoonlikheidsassessering insluit.
Kliek HIER om in te skryf.
Exciting workshops in 2017
18 Februarie 2017 : Kreatiewe fasilitering werkswinkel vir jeugleiers - 'n werkswinkel vir almal wat met jeuggroepe werk - R480.00 per persoon

13-14 Maart - Induksie Fasiliteerder opleiding - R2600 per persoon
19-21 June 2017: Life coach/Mentorkursus vir Leraars en onderwysers - R3800.00 per persoon

26 Augustus 2017 - Bestuur van Konflik

19 September Kreatiewe fasilitering Harrysmith
A workshop for therapists / counselors with previous knowledge of counseling. In this workshop you will be exposed to creative tools and techniques to use in your therapy. You can use this tools when you are stuck in a session or when you want to explore more.
Workshop is in Afrikaans or English

R2200.00 per person
Click HERE to enroll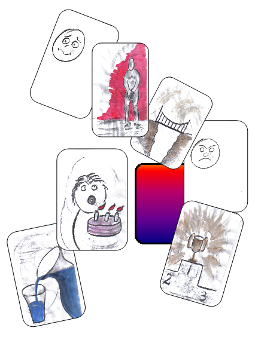 Some of our creative counseling cards.

Is jy 'n ...
Leraar

Onderwyser

Kategeet

Jeuggroepleier

Jeugwerker

Of werk jy net graag met kinders?
Het jy die kinders net een uur per week by jou en wil jy die tyd benut om regtig 'n verskil in die kinders se lewens te maak? Glo jy dat geloofs- en lewenswaarhede deur ervarings versterk kan word? Twyfel jy of jou manier van aanbieding regtig die kol tref?
Dan is die werkswinkel net vir jou!!
Datum: Saterdag 18 Februarie 2017

Tyd: 09:00 - 15:00

Plek: NG Kerk Kameeldrif

Koste: R480.00 per persoon

Aanbieder: Dr Roelf Opperman
Navrae: Stuur jou navrae na info@bronzebaobab.com
Other workshops in our toolbox
Multi-level Processing Workshops
Multi-level processing (MLP) is a revolutionary brain-based technique used by therapists and counselors to help clients process the effect of trauma, cognitive and emotional blockages.
You will find that using Multi-Level Processing, clients experience change within the first two sessions regardless of the method you use in your therapy, be it a Cognitive, Behavioral, Relational, Narrative, Systemic, Experiential or Spiritual modality.
MLP is a further development of brainspotting. It is not just another approach to use - it can be integrated in the therapeutic approach you are using. All therapeutic techniques follow either a top down or a bottom up approach. These two approaches refer to the way the human brain processes information. In most logical thinking processes and processing of positive emotions the processing is done from the top to the bottom – from the front to the back brain. When processing intensive negative emotions and sensory perceptions, the processing is done from the back brain to the neocortex.
In MLP you are taught to use both these processes. You are being empowered to help people with general anxiety to intense traumas. On the other hand, you will be empowered to help athletes, businesspeople and artists to improve and enhance their performances.
The training consists of one basic and two advanced courses.
The basic training course entails the following:
The theory of processing.
Mirror neurons, eye position and activation.
The use of eco-charts.
How trauma influences the brain.
Why dual focusing helps the brain to heal.
Why certain brain approaches work and others not.
How to use face cards, symbols and drawings in the process.
The importance of somatic reflective signals.
The four most important qualities of a therapeutic session - presence, attunement, resonance and trust is, are also discussed in depth.
You can do the following training in Multi Level Processing:
MLP Basic Counseling
MLP Trauma Processing
MLP Performance Enhancement for athletes and performing artists
MLP Relationship Counseling
Workshops for 2017
12 - 15 Junie (2 days for MLP Counselingand 2 days for MLP Trauma)
21 - 23 Aug (3 days for MLP Performance Enhancement)
2 - 5 Okt New MLP workshops
The three workshops are presented by Edgar Phillips, dean of Perspective Training College in Gauteng. He is currently busy with research on MLP at the Northwest University.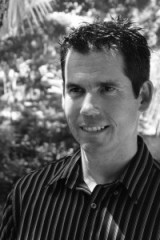 Who may attend? Everybody with Social Work, Psychology, Theology, Education and Counseling credentials
Venue: All the training is done at the DR Church Kameeldrif in Pretoria (near the Roodeplaat dam)
VBO points
10 VBO points per course will be awarded to pastors.
Kreatiewe fasiliterings werkswinkel
Ons bied op op aanvraag 'n Kreatiewe Fasiliteringskursus aan.
Is jy 'n fasiliteerder wat gebruik word om vasgeloopte spanne en sisteme te help visioneer, konflik op te los, verandering te help bestuur en verskillende spiritualiteite te akkomodeer?
In die kursus gaan jy blootgestel word aan:
die teorie en praktyk van fasilitering,

fasilitering van spesifieke konfliksituasies,

fasilitering van vasgeloopte spanne (stuckness)

kommunikasievaardighede binne groot groepe opskerp

praktiese gereedskap (tools) kry om volwasse spanne kreatief te fasiliteer.
Die kursus word oor drie dae aangebied. Dit kos R3800.00 per persoon
Navrae: Stuur jou navrae na info@bronzebaobab.com
We facilitate the following workshops on demand in English and Afrikaans
Mentoring workshop
Youth leader facilitating workshop
Experiential learning workshop
Abseil instructors training (ARA Accredited)
Induction facilitators workshop
Group coaching workshop
Team building workshop
Trauma debriefing workshop
Looking for a mentor or life skill coach?
Do you want to
retain staff?

build bridges between parts of your organisation?

support a competency or skills development program or
optimize the development of talent in your organisation?
Mentors or life skill coaches gives you
access to an objective outsider for continuous feedback
access to knowledge, years of experience and wisdom
the opportunity to unleash your untapped potential by removing self-imposed limitations
and the opportunity to ask naive questions without fear
Benefits for the company
Higher levels of competence, performance, goal achievement and productivity.
Achievement of organisational mission, goals and strategies
Talk to us to link you with one of our skilled mentors or life coaches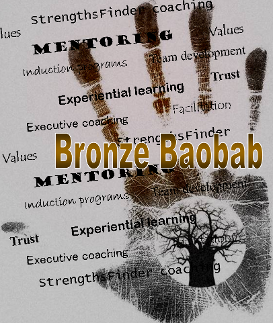 Induction programs
Looking for the fastest, smoothest way to assimilate a new partner/colleague/board member in the management team? Talk to us about your unique needs for a focused team building experience where the newcomer becomes part of your team.
When a system gets a new member, the whole system changes. It brings a whole, new dimension to the system. New relationships are to be formed. Old members might feel threatened...
Our induction program is a focused team development program where the whole team
tell the story of your company in a unique way

get to know each other
understand the roller-coaster of change
integration of newcomers into the organisational culture, values and norms
understand the culture and the unwritten rules of your organisation
do goal setting
The creative use of experiential learning has enabled us to develop tailor made solutions for our culturally-diverse clients. Our client base comprises successful entrepreneurs, flourishing companies, NGOs, government and semi-government institutions, faith based organisations, churches and schools. All clients are treated with the utmost confidentiality and discretion.
We specialise in:
· Facilitation
· Team development
· Mentoring
· Executive coaching
· StrengthsFinder coaching
· Induction programmes
· Experiential learning