When it comes to the management of relationships and the development of social, emotional and spiritual wealth in a company, resistance to change often derails these processes.
At Bronze Baobab we see ourselves as partners who join hands with our clients to counteract resistance to change and to develop tailor made solutions and programmes to meet their specific needs. We use creative processes to inspire them to maximize their professional, personal and group potential.
We are in the people business to create social, emotional and spiritual wealth. That is all we do. It is our all-consuming passion and focus. We train, empower and inspire individuals to maximise their potential. This is our promise to you.

Do it the Bronze Baobab way...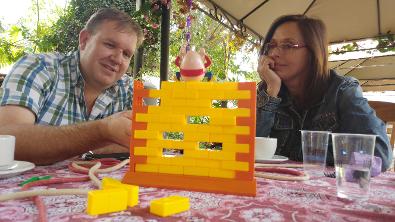 Bronze Baobab uses games and low key activities to facilitate processes.
What's in stall for 2018?
19 Januarie - Teambuilding (Fully booked)
17 Februarie - Kreatiewe Kategese/kleingroep fasiliteerder opleiding - R490 per persoon - Pretoria
6-7 Maart - Kreatiewe fasilitering - Bredasdorp
12-13 Maart - Induksie Fasiliteerder opleiding (Vol bespreek)
18-19 June - Creative counseling - Pretoria -Postponed to March 2019
20-21 Augustus - Kreatiewe Strategiese Proses Fasilitering - Pretoria
10-11 September - Induksie fasiliteerder opleiding (vol bespreek)
19-21September Mentor training / Mentor opleiding - Cape Town
22 September - Bestuur van Konflik werkswinkel - Kaapstad
1-3 Oktober Mentoropleiding Pretoria (vol bespreek)
Accelerate to a new level in Coaching and Mentoring...
Our Mission is to train group coaches and mentors enabling them to help individuals, families, communities, companies and systems to heal themselves.

Our Passion is empowering coaches, mentors and facilitators to discover the magic when they operate out of the box.
Our Coaching Toolbox is unique and our training material is high of quality, visually attractive and interactive.
We transfer our knowledge through internet, as well as in our workshops..