When it comes to the management of relationships and the development of social, emotional and spiritual wealth in a company, resistance to change often derails these processes.
At Bronze Baobab we see ourselves as partners who join hands with our clients to counteract resistance to change and to develop tailor made solutions and programmes to meet their specific needs. We use creative processes to inspire them to maximize their professional, personal and group potential.
We are in the people business to create social, emotional and spiritual wealth. That is all we do. It is our all-consuming passion and focus. We train, empower and inspire individuals to maximise their potential. This is our promise to you.

Do it the Bronze Baobab way...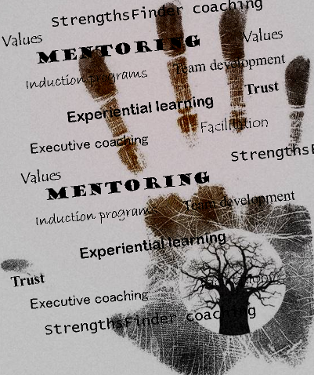 What's in stall for 2016?
30 Jan - Kreatiewe Kategese/kleingroep werkswinkel
7-9 March - Mentoring Workshop Methodist Church
11-12 April -Kreatiewe Berading/Creative Counseling
24-26 May - Mentor training / Mentor opleiding Pretoria
3-5 Augustus - Kreatiewe Fasilitering werkswinkel Bloemfontein
15 - 16 Aug Multi Level Prosessing (MLP)
24 - 25 Oct MLP : Trauma
26 - 27 Oct MLP : Performance Enhancement (Sport. Etc)
05 November - Bestuur van konflik werkswinkel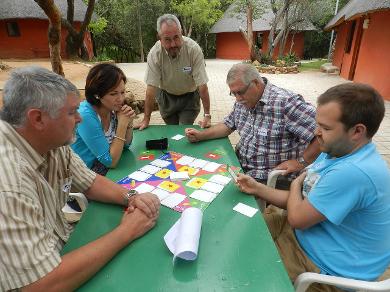 Participants compete in Bronze Baobab's unique "Mentoring game" during the mentoring workshop in 2014.
Accelerate to a new level in Coaching and Mentoring...
Our Mission is to train group coaches and mentors enabling them to help individuals, families, communities, companies and systems to heal themselves.

Our Passion is empowering coaches, mentors and facilitators to discover the magic when they operate out of the box.
Our Coaching Toolbox is unique and our training material is high of quality, visually attractive and interactive.
We transfer our knowledge through internet, as well as in our workshops..

Valutrix is our value driven youth development department where we take value driven programmes to the schools.
Phone:+27 823351156
Fax: +27 866827256
Email: info@bronzebaobab.com